When it comes to choosing the best LED screen for your event, the endless amount of features and specifications can be confusing. Insane Impact is here to help! There are a few critical factors you need to consider when you're deciding between LED and LCD displays, particularly, viewing distance, the physical location of the screen, the environment in which it's being showed and the content that's being displayed.
What's the Difference between LED and LCD?
Take a look at the table below to understand the key differences between LED and LCD screens. Overall, LED is generally preferred because of it's crystal-clear picture, robust capabilities and general reliability.
LED
LCD
Ease of installation
Quick but slightly more complex than LCD
Quick to install
Flexibility of design
Significant design freedom
Restricted flexibility
Quality of image

Pixel pitches range from 0.9 – 20mm
Deep saturated colors with a wide color gamut
No screen bezel or gap

Pixel pitches between 0.5 – 0.6mm
Standard contrast and resolution
Screen bezels and gaps

Reliability

No image retention
100,000 hours to half brightness
24/7 performance

Image retention is a common issue
Ranges from 30,000 – 50,000 hours
Typically not 24/7

Maintenance requirements

Automatic calibration without interrupting the image, reflecting the colors and brightness of other tiles in the display
Components are easily repairable on-site

Commonly require manual calibration
Not serviceable in the field
What's Better – LED or LCD Screen?
To the untrained eye, LED screens look very similar to LCD screens, however the two offer up unique differences for various event applications.
EVENT LED SCREEN DISPLAYS
LED screens have become a mainstay in the large event category with their optimal picture resolution and capability to emit high light levels. Through use of Light Emitting Diodes (LED), these systems produce red, green and blue light. By combining and balancing these three primary colors, the user can produce virtually any color on the spectrum.
Event screens are typically built from multiple panels that are connected together. These can be customized and scaled to any shape or size, perfect for huge arenas, smaller trade show exhibits and everything in between. Display your custom content on an LED so the entire arena can see.
Benefits of LED Screens:
The brightest screen offerings
Weatherproof and suitable for outdoor use
Energy-efficient
Flexible design
Quick and easy setup
No projection needed
Cons of LED Screens:
LED screens can be heavy or large, meaning they require rigging systems. However, mobile LED screens are presenting a unique opportunity for event managers to take complete control of their display system.
In general, an LED screen should be used at those events requiring a brightly lit display that needs to be seen from hundreds of yards away.
EVENT LCD SCREEN DISPLAYS
LCD screens are normally seen in smaller more consumer-driven displays, such as computer monitors or TVs. This screen option is ideal for small applications where an affordable but high-quality display is needed. Additionally, with a wide range of connectivity options, these screens are versatile.
Benefits of LCD Screens
More cost effective
Lightweight, allowing quick and easy rigging
Versatile connectivity with standard connections being VGA, HDMI, composite component, DVI and S-video output
Adequate level of brightness for all indoor applications
Cons of LCD Screens:
The size of screen options are limited, with larger screens carrying a hefty price tag
Brightness is not adequate for outdoor applications in daylight
Pixel Pitch
The clarity of every LED screen is dictated by its pixel pitch. This measurement defines how clear or coarse the video is and how close a viewer can stand to the display and still get a clear visual.
Pixel pitch is the physical distance of two separate pixels on the given display. This distance is measured from the center of one pixel to the center of its neighbor.
If a screen has less than 3mm spacing, it's considered a narrow pixel pitch. If a screen has a spacing between 3-6mm it's considered a small pixel pitch. If there's too much space between the pixels, black spaces will appear and resolution is diminished.
Pixel pitch is crucial in determining the minimum required viewing distance for the viewer to see a clear image. The higher the pitch, the farther the required viewing distance. The lower the pitch, the higher the image quality.
As our table displayed, the pixel pitch of an LED screen is Pixel pitches range from 0.9 – 20mm, while the pixel pitch of an LCD screen is Pixel pitches between 0.5 – 0.6mm. This shows us that LEDs are better for medium to long viewing distances in indoor and outdoor applications, while LCDs are better for close viewing in indoor or nighttime applications only.
Find out more about choosing the best LED screen – read our blog: Guide to First Time Jumbotron Rental!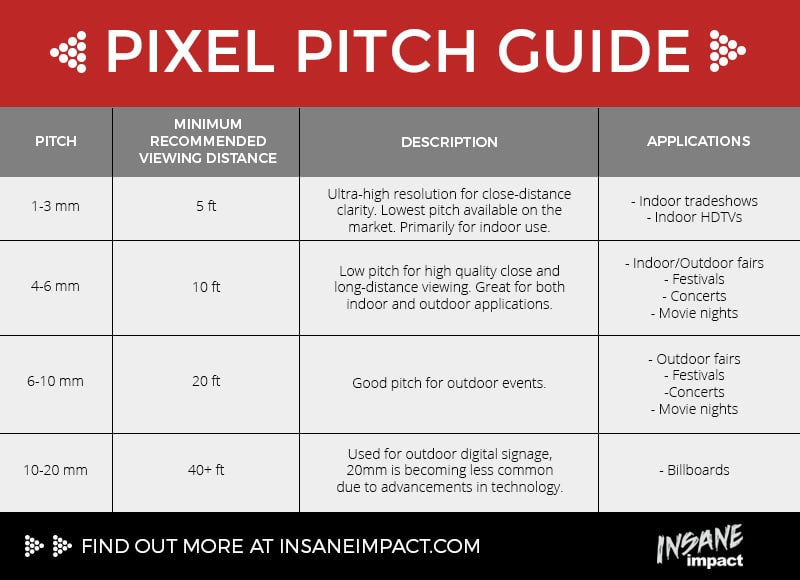 Rent an LED: Contact Insane Impact Today!
If you're ready to rent an LED screen, contact Insane Impact today! We're the country's premier leader in mobile and modular LED systems for events. Find out how we can help you make an impact on your audience. Get in touch.