LED Screen Rental in Washington DC
DC's leader in event-enhancing LED display screens
Rental
"*" indicates required fields
Insane Impact is a leading provider of LED screen rental products and services in Washington, DC.  MAX Mobile LED, our mobile rental product suite, is available in 4 sizes to meet a wide array of event needs. 
A daily rental is priced as one all-in rate, and includes delivery, operation, and a dedicated trained LED technician to cater to your on-site event needs. You can order confidently knowing that we will handle the LED display while you focus on running a successful event.
Products
With one of the largest inventories of mobile LED displays in Washington DC, odds are we have the right product for you. All outdoor rental products feature all-weather ratings, crisp image quality, and a dedicated technician.
MAX 2313
 The all new MAX 2313, at a whopping screen size of 23 ft. by 13 ft. is sure to impress. As the largest and latest of our MAX Mobile LED lineup, the HD MAX 2313 can be seen from up to 500+ feet away and is great for captivating giant crowds at large events. We have multiple MAX 2313's available on the east coast, ready to enhance your next event.
MAX 1710
The MAX 1710 is the right size for medium to large events. Still large enough to capture large audiences, with a smaller footprint and lower price point than the 2313. MAX 1710 can be comfortably viewed from ~350 ft. away.
MAX 158
The MAX 158 is great for small to medium sized applications such as movie nights, fundraisers, sporting events, and digital signage. The MAX 158 has a maximum viewing distance of ~250 ft.
MAX 127
The MAX 127 is a budget-friendly rental solution for small to medium sized events. It can be viewed from 200 ft. away and is great for community events and digital signage/advertising.
Tech Guide
Here are some LED display tech terms to help you choose the perfect product for your next event.
Pixel pitch
Pixel pitch is a measurement, in millimeters, of the distance between pixels on video wall panels. The lower the number, the higher the image detail (resolution). A video wall with pixels that are 6 millimeters apart would have a pixel pitch of 6, written as 6mm or p6.
Resolution
Resolution is a measurement of the number of pixels on a display, written as pixels wide x pixels high. The higher the number, the higher the image detail.
IP rating
IP ratings measure LED panels' resistance to nature's elements. An IP65 or higher rating is required for operation in all-weather conditions.
Brightness
LED display brightness is measured in nits. The higher the number, the brighter the screen. For indoor video walls, 1,500 nits are generally sufficient. For outdoor displays, you want a minimum of 5,000 nits for visibility under direct sunlight.
Leading LED Services in DC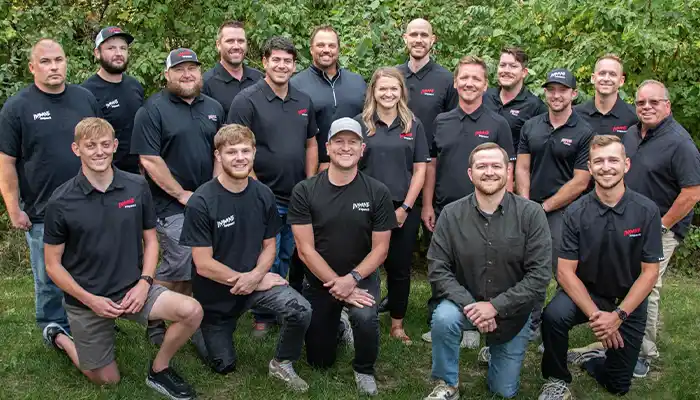 When you rent from Insane Impact, you not only receive an industry leading LED display, but industry leading service. We have flat-rate rental pricing, which includes:
Dedicated technician

Setup and operation

Power 

Audio 
Are you ready to see what Insane Impact can do for your next event in the DC area? Click below to talk to an LED expert.