Event Snapshot
Summer of 2019 we provided a 12×7 mobile LED screen rental to Yoga at the Glen, an event hosted by Power Life Des Moines to benefit the Hannah Geneser Foundation. The event included an array of vendors and activities, including raffles, food and drink vendors, face painting, a live band, inspirational videos, and an hour long Yoga workout session. The event took place right next door to Insane Impact HQ at the West Glen Town Center in West Des Moines, IA. Our staff had an excellent time at this event and enjoyed giving back to our local community with this fundraising event.
Product Used
We provided Yoga at the Glen with our 7×12 MAX Mobile LED screen trailer unit. The screen was used to display videos and signage, and the onboard audio was used to play music in between acts.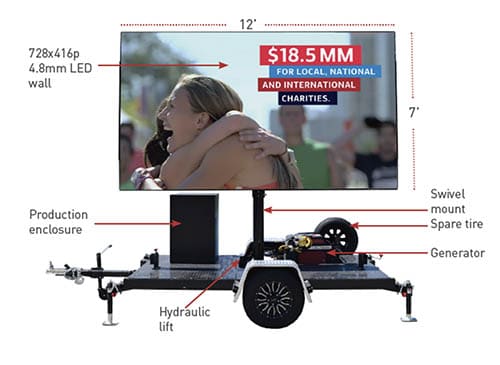 About the Hannah Geneser Foundation
On March 21, 2011, four-year-old Hannah Ray Geneser died in a tragic accident when a screen gave way and she fell from an open window. In response to her tragic and untimely death, the Hannah Geneser Foundation was founded by her parents, Jamie and Shanda.
The Hannah Geneser Foundation, a 501(c)(3) non-profit organization, was launched in 2011 to honor the memory of Hannah and to help prevent the accidental death or serious injury of other young children.