If you are looking to up the ante at your next event, then an LED display rental could be an excellent option. LED screens have the potential to generate a ton of revenue and increase the event-goer experience when done right.
Whether you are brand new to LED or a veteran, this in-depth and comprehensive guide will answer everything you need to know to maximize the return on investment from your next modular or mobile LED screen rental.
1. LED Display Rental Defined
LED display rental refers to renting a display that utilizes LED technology. LED (short for light-emitting diode) has become today's standard for display technology due to its superior brightness, color contrast, and energy efficiency.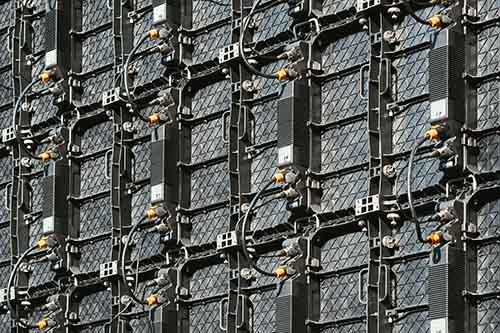 While LED is used with pretty much all displays, the term "LED screen rental" typically refers to renting displays that are much larger than any device for personal consumption. That is, giant screens for events requiring mass viewing by large numbers of people.
A more accurate term for these giant displays is "LED video wall". LED video walls link together many individual panels or modules to form one large display. Linking together individual panels allows for unlimited display sizes with custom shapes and aspect ratios. The term "LED display rental" can also be called "jumbotron rental" "LED screen rental" and "LED wall rental".
2. LED Display Rental Pricing
LED displays are typically priced at a daily rate, with the first day being the most expensive, and consecutive days costing around 20% of the day 1 rate. The starting rate for a smaller LED wall around 10-12 feet wide can range from $3,000-$5,000 for a one day rental.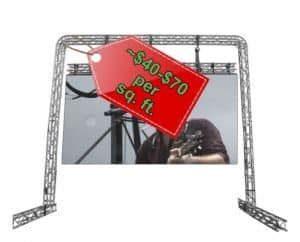 A good way to estimate the rental price of any screen is $40 – $70 per square foot of screen space.For example, if you are renting a 16'x9′ screen, you would calculate the range as follows:
(16*9*40) to (16*9*70).
Thus a 16'x9′ screen will cost you between $5,760 and $10,080. The large rate range is due to a variance in price based on factors such as pixel pitch, brightness rating, location, and how the screen is constructed.
In general, the minimum you should plan on paying out for a 1 day rental is $3,500. If this is past your budget, read on to #3 for alternative display options. Also see #9 How to monetize your screen.
3. Determining If Renting an Led Display Is Right for You
First you need to determine if you need a display at your next event.
BENEFITS OF HAVING A DISPLAY AT YOUR EVENT
Attendee engagement and entertainment
Ability to get your messaging and branding across
Ability to generate revenue from digital sponsor advertisements
Next, you need to determine your display solution. Your 3 main options are LED screen rental, projection screen rental, and TV/monitor rental
WHEN YOU SHOULD CONSIDER AN LED SCREEN
You require daytime viewing
You want the best in clarity, color contrast, and visibility
You need your screen to withstand nature's elements including heavy wind and rain
You need a custom size or aspect ratio
WHEN YOU SHOULD CONSIDER A PROJECTION SCREEN
Your event is indoors
Your event is at night
Related article: Your Complete Guide to Sourcing Big Outdoor Screens
WHEN YOU SHOULD CONSIDER A TV
Your event does not require mass simultaneous viewing
Your event does not require viewing from far away distances
4. Choosing the Right Provider
Browse the internet to find providers that service your local area. Be sure to check out their previous work, reviews, and testimonials. It doesn't hurt to receive a quote from multiple companies. Keep in mind that the most inexpensive route may not always be your best option.
At Insane Impact, we offer competitive pricing with industry leading products and services. What sets us apart from other providers is our all-encompassing pricing and service. When you receive a rental quote from us, it includes delivery, setup, operation, power, sound, and unparalleled customer service. All for one flat competitive rate and no unexpected price additions.
5. Choosing the Right Product
If you call any reputable LED screen rental provider, they will be able to properly guide you on the perfect product for your specific application. However, it helps if you know some of the basic types of products and buzzwords prior to making the call.
TYPES OF LED PRODUCTS
Mobile – Mobile LED screens are screens that are prefabricated onto a truck or trailer. They travel to your location already fully assembled. They are great for outdoor events that are on a budget and looking for speedy setup and logistical flexibility.
Modular – Modular LED screens are transported as individual panels (typically around 2'x2′ in size) and constructed onsite using trussing equipment. Benefits include custom sizes and shapes, indoor functionality, and a cleaner look.
Indoor – Indoor LED screens are typically modular, since the individual LED panels are able to fit through doorways and be built out inside. They are typically of a higher resolution and do not need to be as durable or shine as bright as outdoor screens.
Outdoor – Outdoor screens shine brighter and are more durable than indoor screens. They also tend to have a lower pixel density and be designed for farther away viewing distances
PRODUCT TECHNICAL SPECIFICATIONS
Pixel Pitch – Pixel pitch is the distance, in millimeters, between two pixels. It is a measure of pixel density. The lower the number, the sharper the image quality. Pixel pitch is important not only because it determines the clarity of an image, but because it determines minimum viewing distances. A video wall that requires viewing distances of 10 ft or closer (as with an indoor video wall) should have a pitch of 5mm or lower.
Resolution – The resolution of a screen is a measurement of the amount of pixels in a display, written as (pixel width) x (pixel height)p. For example, a screen that has a resolution of 1920x1080p is 1,920 pixels wide by 1,080 pixels tall. The higher this number, the higher the image quality.
Brightness – Brightness of LED walls is measured in nits. Indoor video walls are typically between 1,000 and 3,000 nits, whereas outdoor LED panels require at least 4,500 nits to be visible in sunlight.
IP Rating – An IP rating is a measurement of a product's resistance to nature's elements. Written as IP(number 1)(number 2), where the first number is a measurement of protection from solid objects and the second number is protection from liquids. Outdoor screens require at least an IP65 rating.
16:9 Ratio – A 16:9 or (1.78:1) ratio is the standard aspect ratio for videos and TV. In short, if you plan on displaying files and feeds in this standard ratio, you need to make sure that your video wall's width divided by its height is equal to roughly 1.78. Your LED company will help guide you through creating the proper ratio for your content, but if they mention the term now you know what it means.
6. How LED Production Works
Since your LED company will run the production, you don't need to worry about the tech specifics. But it may help you to envision content ideas if you understand the basics. LED screens are operated off of standard desktops or laptops. The computer then feeds into an LED processor, and the display then extends onto the LED screen.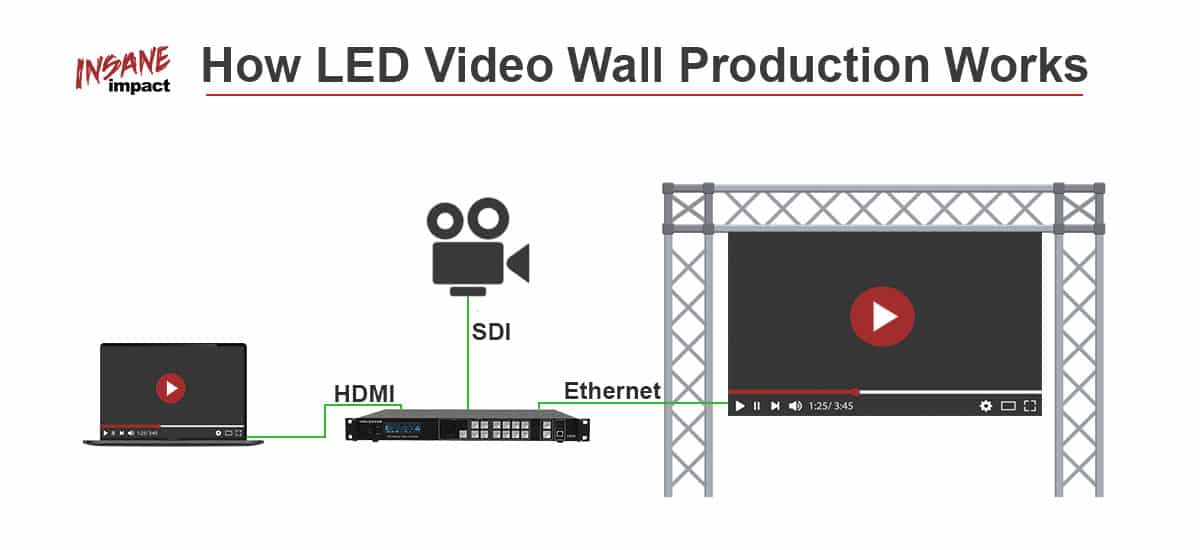 Displaying LED content is no different than hooking up an extra monitor to your computer screen with one extra step – an LED data processor or digitizer. This piece of equipment maps the individual panels to form one large, seamless display.
If you are wanting to tie in other display feeds or even audio into the LED equipment, that is simple as well. Audio typically ties in with an XLR input, and video can connect with SDI, HDMI, DVI, D Port, or VGA connections. These connections plug into the LED processor or digitizer.
7. The Rental Process From Start to Finish
1. CONTACT
Step 1 is to contact the potential provider. You may call or email them. Whether you know exactly what you want or just have questions, good companies will be welcoming and answer any questions that you have without trying to sell to you.
2. PLANNING
If you are ready to receive a quote, the LED company will ask some basic information such as how large your event is, what the minimum/maximum viewing distance will be, and some additional logistical questions. Based on your needs they will help you select the right product and send over an official quote.
3. CONTRACT
Once the quote is generated, there will be a contract for services. LED companies typically require a down payment of between 25% and 50% of your invoice prior to completion. Should you need to cancel your event, the down payment is usually non-refundable, however that deposit can be used as credit toward any future event.
4. PREPARATION
Once the contract is inked, you and your provider will continue to work through logistics. They will also consult you with content capabilities, ideas, and design best practices. They will typically require a "run of show" (a document detailing what content to play when) and all of the files to be sent over via a cloud file sharing service several business days in advance to the show.
5. EXECUTION
When your event day comes, you will have 1 or multiple LED technicians arrive onsite at a predetermined time. Depending on the estimated setup time and show requirements, they may arrive several hours prior to start time, or the day before. You will have at least one technician to operate the screen(s) per the run of show. They are onsite for the duration of the event to cater to your needs and troubleshoot any potential technical issues if they arise.
6. POST
Once the event is completed (also referred to as "strike" time, or the time that they can power down the screen), your technician will begin tearing down the equipment to hit the road. Your sales representative will follow up with you the next business day to ensure your satisfaction, and may ask you for a review of their services.
8. How to Engage Attendees With Dynamic Content
The primary purpose of your screen should be to entertain and engage your attendees. If you can find a way to generate real-time, interactive data, that tends to be a crowd-pleaser. Examples of this would be camera feeds (also referred to as IMAG or image magnification), live social media to screen walls, real-time polling, or live scoring/updates. Another tip is that motion tends to engage the crowd more than static images. Read more on our article 25 Video Wall Content Ideas.
9. How to Monetize Your Screen
Remember, your primary goal should be to enhance the experience of your attendees with exciting content. However, when done correctly you can also generate a ton of sponsorship revenue. Ideas for promoting sponsors on the screen include hung print signage, digital logo overlays, sponsored content, and logo loops. Learn more on our article 5 Ways to Increase Sponsorship Revenue With Digital Signage.
The bottom line
LED displays are a great solution for events that require daytime viewing, mass viewing, and vivid picture. They pose the benefits of enhancing the event experience and revenue generation. Now that you are an expert on LED display rental, it is time to begin the searching and planning process – start by visiting our LED screen rental page for a quick no obligation quote!